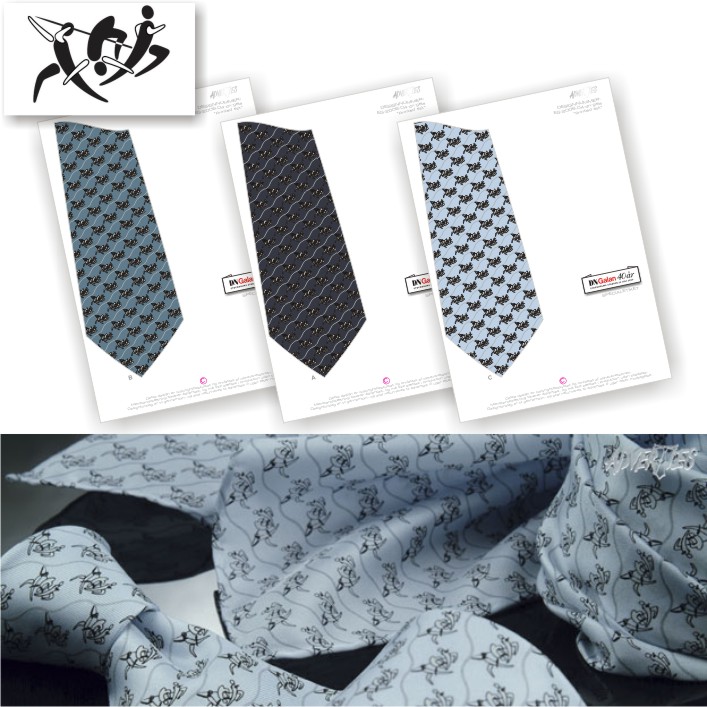 We love special design.
Here is an example of a design, from concept to finished product.
We received customer's logo which you can see at the top of the image, and the customer had a desire for a design of ties and scarves to be used for officials at a major athletics event in Stockholm. We are very good at implementing customer's logo in a design that matches the actual style and trend. It is important for us to deliver a product that lives up to your expectations, and therefore we advise on choice of quality and production, already in the design phase. Your logo is an important part of your company's image, and therefore it is important for us to deliver the right quality for the purpose you have.
Among the design presentations on both tie and scarves, which was presented to the customer, he selected the design to the right.
Here you see as the final tie and scarf, which was produced in printed silk.
Would you like to see a design presentation on neckties and scarves for your business, please fill in the contact form, with little information about the purpose and use, attach your logo and in a short time, you will receive a design presentation with 4-5 different proposals. IT is totally FREE.
If the designs aren't quiet in your taste we would be happy to make the adjustments you want, without obligation.